Safeguarding Your Facility, 24/7
When an electrical failure threatens your facility's safety and productivity, E3 provides 24/7 staffing to handle after-hours and holiday repairs. A quick call to 713.622.1222 connects you with a dispatcher—day or night.
Your licensed emergency technicians arrive promptly in generously stocked vehicles, ready to restore power and repair compromised systems. In most cases, we have you up and running in just a few hours—with minimal disruption to employees and guests.
When generators are required to keep vital equipment functioning, we install backup power solutions that keep your facility running strong until repairs are complete.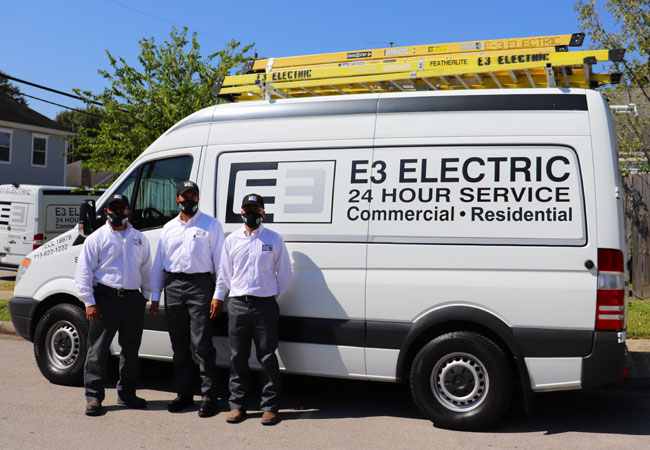 E3 Emergency Services
E3 emergency response teams are comprised of our most experienced electricians and technicians. Specially trained to manage an electrical crisis, these emergency responders provide:
Troubleshooting & diagnosis of electrical systems, lighting & data systems
Emergency parts procurement
Backup power planning
Competitive pricing & respect for your budget
Industry-leading equipment & diagnostics
Temporary repairs & permanent wiring solutions
Schedule Houston Electrical Service
Prioritizing the safety of your commercial or industrial facility, the E3 emergency team is at the forefront of its industry. Offering fast, friendly emergency repairs, we also provide preventative maintenance to reduce the occurrence of major breakdowns. To schedule emergency electrical service or speak with the E3 staff, call 713.622.1222 now.