Lightning Protection Electricians in Houston, TX
At E3 Electric, we love what we do! We're licensed residential lightning protection electricians In Houston, TX with decades of combined experience. Our clients come to us because our certified electrical technicians are meticulous in their work and will complete your residential project quickly. From comprehensive renovations to smaller projects, we have your lighting and home surge protection needs covered.
E3 Electric: A Residential Surge Protection Electrical Company
We do a lot more than lighting! We perform surge protection services in addition to our lighting projects. Different households have different power requirements. Therefore, many of our clients opt to protect their electrical circuits (and the various expensive appliances that utilize them) from dangerous electrical surges.
We perform safety inspections for residences on a daily basis because homes need to be 100% safe from circuit problems that can start fires. Our technicians are experts with all current codes and all work performed is done according to the most stringent safety standards in the industry.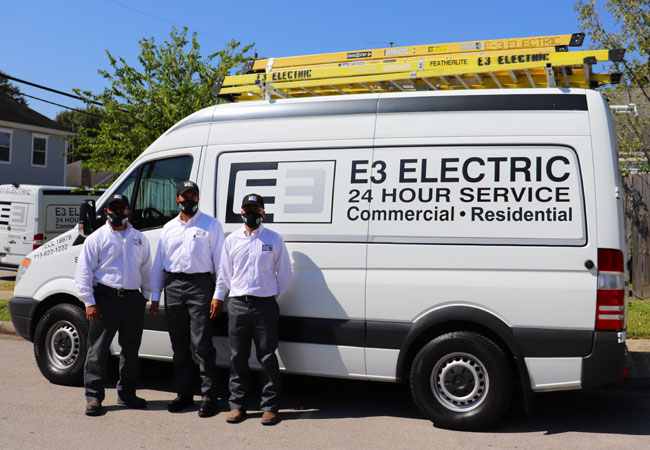 Premier Home Lightning Protection Electrical Services
E3 Electric is well aware that our reputation is largely due to the technicians we hire. We require a prodigious amount of training and electrical experience as the baseline to get hired at our company. It is equally important that our team members have excellent communication skills and are respectful of your property at all times. After all, your specific home lightning protection electrical services must be clearly delineated in order to obtain a perfect result.
Our technicians arrive in service vehicles generously stocked with the parts and materials they need for the job. This saves time and money. Furthermore, our team members keep an organized workspace while your project is being completed and this has obvious benefits for everyone involved. E3 Electric completes your project on time and on budget. We can accommodate virtually any budget — so don't hesitate to take the first step toward your impressive lighting project!