Corporate Interior Services in Houston, TX
Corporate interiors tend to be low-key, understated, and usually convey a lasting, positive impression of the company. Lighting is definitely a key aspect of the impression that you want to be memorable and safe, of course. E3 Electric is known for outstanding electrical corporate interior services in Houston, TX. Since 2003, we have installed corporate interior lighting, controls, efficiencies, appliances & electronics for satisfied clients.
As your corporate interior electricians in Houston, TX we offer many options including recessed lighting. In addition, E3 Electric can resolve your electrical needs 24 hours a day, seven days a week. Not only do we offer corporate interior electrical solutions, but we also take care of any electrical emergencies you may experience. Our 24-hour emergency service encompasses resolving all types of unexpected electrical crises that might threaten the security of your establishment.
We specialize in troubleshooting and identification of issues, emergency parts procurement, making backup power arrangements, and completing temporary repairs along with permanent electrical solutions. Safety is always our number one priority, just as it is for all of our customers. Our technicians are licensed, bonded, and insured. Each of them is well-trained and experienced, which is what you should expect from E3 Electric, the leading supplier of commercial interior electrical services.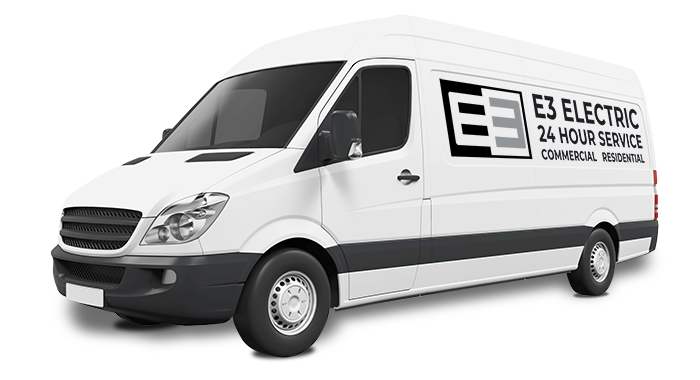 Why to Use E3 Electric for Electrical Corporate Interior Services in Houston, TX
=

Electrical emergencies can occur anytime. We are the corporate interior electrical solutions company that can take care of all of your after-hours and holiday repairs.

=

We will use infrared technology to check your electrical panels and we will do it for free.

=

We will make sure that your company's electrical issues are resolved fast with minimal disruption to you and your employees' productivity.

=

Our technicians and electricians will arrive at your facility in generously stocked vans so they have exactly what they need to get your job done efficiently.

=

E3 Electric does preventative maintenance for our commercial and industrial clients. This may include pinpointing and addressing repairs before they become emergencies, changing light bulbs from fluorescent to LED, upgrading wiring and equipment before it wears out, performing safety tests and servicing generators.