Home Ceiling Fans Houston, TX
Are you in need of high-quality ceiling fan electrical services In Houston, TX? E3 Electric has provided residential electrical services in your neighborhood and all over southern Texas. We've been in business since 2003 improving homes with renovations that include new ceiling fans, dimmer switches, recessed lighting, kid-safe outlets and more. In addition to being the go-to choice for electrical services, we offer friendly customer service and budget-friendly pricing.
Ceiling Fan Electrical Wiring… the Safe Way!
One of the primary reasons that homeowners choose E3 Electric to complete improvement projects is that we put safety first. Our licensed and highly experienced team members are knowledgeable in all required safety protocols and ensure that your home's wiring matches the exact specifications of all applicable codes.
Ceiling fans are a great way to add value to almost any space in your home and can save you money on air conditioning bills. Ceiling fans are a nice ornamental touch and our customers enjoy the peace of mind that comes from professional work done correctly and by the book. Ceiling fan electrical wiring is more complex than it may appear and, in our opinion, does not fall under the DIY realm of home improvement.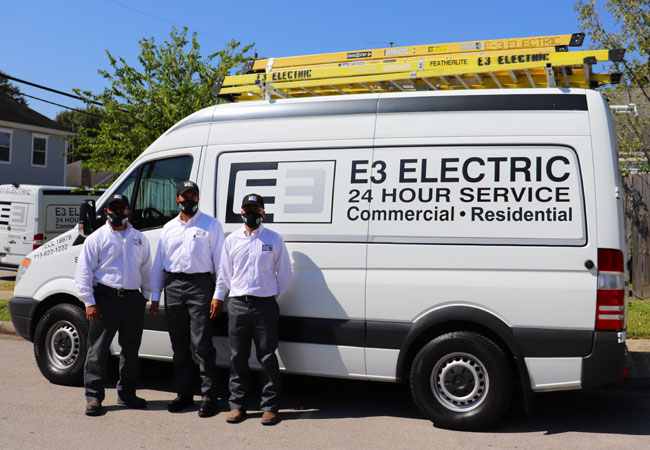 Hire the Best and Enjoy the Results
Your home ceiling fan electrician from E3 Electric is always respectful of your home. After all, courteous and clear communication is part of the job, not just a wealth of circuit and safety knowledge. Our team members arrive with a service vehicle stocked with all of the necessary and parts and materials.
Our technicians are clean, neat and organized and carry mobile tablets in case you need to share any information that will assist in the prompt completion of your project. Hire our Houston, TX ceiling fan electrician or you may call upon our expertise for any of the following needs in the future:
=

Design-build services.

=

Backup power solutions.

=

Safety inspection of any and all circuits.

=

Replacement of panels containing circuit breakers.

=

Lighting installation and illumination engineering.

=

Troubleshooting, diagnosis and repair.